NUEVA LOCALIDAD CON NIDOS Y HUEVOS DE DINOSAURlOS (TITANOSAURlDAE) DEL CRETACICO SUPERIOR, CERRO BLANCO, YAMINUE, RIO NEGRO, ARGENTINA
##plugins.themes.bootstrap3.article.main##
Resumen
This paper describes a new locality with dinosaur eggs and nests of Late Cretaceous age from Yaminué locality (Río Negro province, Argentina). Eggshells and eggs have been found at different stratigraphic horizons in an area of about 0.5 km2. However, most of the material was collected in a bed from the lower part of the section. A taphonomic study of nests, as well as petrographic and X ray diffraction analyses of eggshells was carried out. To test for the presence of embryos, some radiographs were also taken. The morphological features of these eggs are similar to those referred to Titanosauridae, and there also are some evidence of colonial nesting behaviour.KEY WORDS. Argentina. Río Negro. Upper Cretaceous. Dinosaurs. Titanosauridae. Egg. Nest. Paleoecology.
##plugins.themes.bootstrap3.article.details##
Derechos de autor
Esta obra está bajo licencia internacional
Creative Commons Reconocimiento-NoComercial 4.0
.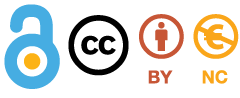 Los/las autores/as conservan los derechos de autor/a y garantizan a la revista el derecho de ser la primera publicación del trabajo licenciado bajo una licencia CC Attribution-NonCommercial 4.0 que permite a otros/as compartir el trabajo con el reconocimiento de la autoría y de la publicación inicial en esta revista.