CRETACEOUS CONCHOSTRACANS FROM ALAGOAS BASIN (NORTHEASTERN BRAZIL)
Resumen
Conchostracans from an outcrop of the Maceió Formation (Aptian-Albian, Alagoas Basin) located at Japaratinga Beach (Alagoas State, Brazil) are studied. The fossils comprise a monospecific fauna of Cyzicus pricei Cardoso, a frequent Early Cretaceous species in some Brazilian rift basins. The conchostracans from Maceió Formation occur as non-articulated and articulated valves of brownish color. The articulated valves and well preserved isolated ones are indicative of local burial without significant transport. No other fossil groups were found associated with Cyzicus pricei in Japaratinga Beach outcrops. Their ecological setting was probably similar to Recent environments: temporary ponds of alkaline freshwater. The existence of some Early Cretaceous African species presenting great morphological similarities with Cyzicus pricei [e.g., Cyzicus kasaiensis (Marlière) from Congo Basin] suggests that Brazil and Africa shared common conchostracofaunas during the Early Cretaceous.

KEY WORDS. Brazil. Alagoas Basin. Cretaceous. Aptian. Conchostracans.
Descargas
Licencia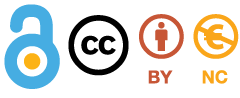 Los/las autores/as conservan los derechos de autor/a y garantizan a la revista el derecho de ser la primera publicación del trabajo licenciado bajo una licencia CC Attribution-NonCommercial 4.0 que permite a otros/as compartir el trabajo con el reconocimiento de la autoría y de la publicación inicial en esta revista.