MORPHOLOGICAL DIVERSITY IN THE ICHNOGENUS URUGUAY ROSELLI AND ITS BEHAVIORAL IMPLICATIONS
Resumen
The ichnogenus Uruguay, described from the Ascencio Formation of the Republica Oriental del Uruguay (Late Cretaceous-Paleogene), comprises clusters of fossil bee cells. This ichnogenus includes two ichnospecies, U. auroranormae Roselli and U. rivasi Roselli, characterized by four and three cell rows respectively. The new examined material (74 specimens) is separated in ten groups based on the previously defined ichnotaxobases and additional ones presented herein. These morphological types are analyzed in terms of growth of cluster, trace maker diversity and behavioral plasticity. Morphological diversity in the ichnogenus Uruguay suggests the existence of three closely related species of bees, sharing a common nesting site: the constructor of U. auroranormae, U. rivasi and those of a third unnamed ichnospecies characterized by the irregular arrangement of cells, which are cylindrical and elongated, in some cases because for their re-use. New ichnotaxobases for the ichnogenus Uruguay proposed herein include the outline in plane view, cell bottoms exposed or hidden, presence or absence of antechambers, cylindrical vs. more clavate cells, and the elongation of cells.

KEY WORDS. Trace fossils. Uruguay. Ichnotaxonomy. Morphological diversity. Bee behavior.
Descargas
Licencia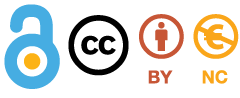 Los/las autores/as conservan los derechos de autor/a y garantizan a la revista el derecho de ser la primera publicación del trabajo licenciado bajo una licencia CC Attribution-NonCommercial 4.0 que permite a otros/as compartir el trabajo con el reconocimiento de la autoría y de la publicación inicial en esta revista.