MAMMALIAN EVOLUTION ACROSS THE CRETACEOUS/TERTIARY BOUNDARY: THE CONTRIBUTIONS OF SURVIVAL, DISPERSAL, AND EXTINCTION
Resumen
Currently the most detailed fossil record of mammalian evolution across the Cretaceous/Tertiary (K/T) boundary is derived from the Western Interior of North America. Recent discoveries in other areas, particularly South America, Africa, and Eurasia, are beginning to provide records of the changes in composition of contemporaneous terrestrial faunas. From a global perspective, Late Cretaceous and Paleocene terrestrial biotas are characterized by biogeographic provincialism, which appears to have had its origins in the differentiation of Gondwanan and Laurasian biotas earlier in the Mesozoic. During the transition from the Late Cretaceous into the Paleocene survival, dispersal, and extinction interacted to produce new patterns of biogeographic diversity.

KEY WORDS. Cretaceous/Tertiary boundary. Survival. Dispersal. Extinction. Mammals.
Descargas
Licencia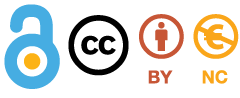 Los/las autores/as conservan los derechos de autor/a y garantizan a la revista el derecho de ser la primera publicación del trabajo licenciado bajo una licencia CC Attribution-NonCommercial 4.0 que permite a otros/as compartir el trabajo con el reconocimiento de la autoría y de la publicación inicial en esta revista.