MAMMALIAN FAUNA OF THE LATE JURASSIC GUIMAROTA ECOSYSTEM
Resumen
The Late Jurassic (Kimmeridgian) Guimarota locality near Leiria in west-central Portugal has yielded more than 800 mammalian dentaries and partial skulls representing the largest sample of Late Jurassic mammals in the world. However, despite the enormous number of specimens collected, the mammalian fauna appears somewhat depauperate. So far, only Multituberculata (several genera of Paulchoffatiidae; 28% of total number), Docodonta (Haldanodon exspectatus Kühne and Krusat; 24%), and Holotheria (48%) represented by Paurodontidae (Henkelotherium guimarotae Krebs and Drescheratherium acutum Krebs) and Dryolestidae (Dryolestes leiriensis Martin, Krebsotherium lusitanicum Martin, and Guimarotodus inflatus Martin) have been detected. "Triconodonta" and Symmetrodonta, which are well represented at other Late Jurassic localities (e.g., Morrison Formation), are missing. To recover the rare mammalian taxa of the Guimarota ecosystem, a project was initiated to study the nearly 7000 isolated mammalian teeth that had been obtained by screenwashing. With a single exception, the same taxa are represented. Among the thousands of isolated teeth, however, 25 lower and 23 upper premolars and molars of a tiny primitive Zatheria have been found, of which the lower molars closely resemble the "Porto Pinheiro molar". After sorting the isolated teeth, the mammalian fauna of the Guimarota ecosystem probably is completely recorded. Apparently, the coastal swamp in the Lusitanian graben where the lignite formed represented a stressed environment not appropriate for some mammalian groups. Endemism is unlikely, because "Triconodonta" and Symmetrodonta were present on the Iberian archipelago in Late Jurassic-Early Cretaceous times, where they have been recovered from fluvio-lacustrine deposits of Porto Pinheiro (Latest Jurassic) and Galve (Early Cretaceous, Barremian).

KEY WORDS. Portugal. Guimarota. Jurassic. Mesozoic mammals.
Descargas
Licencia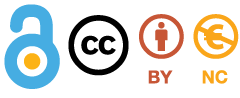 Los/las autores/as conservan los derechos de autor/a y garantizan a la revista el derecho de ser la primera publicación del trabajo licenciado bajo una licencia CC Attribution-NonCommercial 4.0 que permite a otros/as compartir el trabajo con el reconocimiento de la autoría y de la publicación inicial en esta revista.