A REASSESSMENT OF THE PHYLOGENETIC POSITION OF CRETACEOUS SAUROPOD DINOSAURS FROM QUEENSLAND, AUSTRALIA
Resumen
The Cretaceous sauropod material from Queensland, Australia, has been regarded as pertaining to a persistently primitive sauropod lineage (e.g., Coombs and Molnar). The specimens derive from the Toolebuc and Allaru (Albian marine) and Winton (Cenomanian continental) Formations. Recent phylogenetic analyses carried out by workers in Argentina, the USA and England permit a reassessment of this fragmentary material. As far as can be ascertained from the material, there is no indication from the character states that more than a single taxon is represented. Character states diagnostic of the Titanosauriforrnes, the Titanosauria, the Somphospondyli and the Titanosauridae are present. Thus the Queensland material does not pertain to cetiosaurids but belongs to titanosaurs, extending their range into Australia.

KEY WORDS. Sauropods. Austrosaurus. Titanosaurs. Cretaceous. Paleozoogeography.
Descargas
Licencia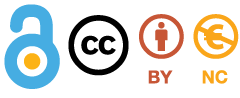 Los/las autores/as conservan los derechos de autor/a y garantizan a la revista el derecho de ser la primera publicación del trabajo licenciado bajo una licencia CC Attribution-NonCommercial 4.0 que permite a otros/as compartir el trabajo con el reconocimiento de la autoría y de la publicación inicial en esta revista.