RECENT ADVANCES ON THE STUDY OF MESOZOIC MAMMALS FROM CHINA
Resumen
History of the study of Chinese Mesozoic mammals can be traced back to over 60 years ago when Yabe and Shikama described Manchurodon simplicidens Yabe and Shikama, an amphidontid "symmetrodont" from northeastern China in 1938. So far, a dozen of localities yielding Mesozoic mammals have been reported from China, representing a wide range of Mesozoic mammal groups, including sinoconodontids, morganucodontids, triconodonts, multituberculates, symmetrodonts, shuotheriids, and eutherians, etc. Complete skeletons of Zhangheotherium quinquecuspidens Hu et al., a symmetrodont, and Jeholodens jenkinsi Ji et al., an eutriconodont, from the same early Cretaceous lacustrine deposits as those bearing the feathered dinosaurs and the primitive birds, offer new insight into the relationships of the major lineages of mammals and the evolution of the mammalian skeleton. Discovery of an upper molar of Shuotherium shilongi Wang et al. from the same locality as S. dongi Chow and Rich, the type species of the genus, confirms the existence of the pseudo-tribosphenic molar pattern, in contrast to tribosphenic one, and indicates that Yinotheria represents a separate lineage in early therian diversity.

KEY WORDS. China. Mesozoic mammals. History. New information.
Descargas
Licencia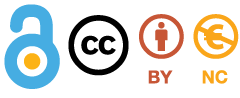 Los/las autores/as conservan los derechos de autor/a y garantizan a la revista el derecho de ser la primera publicación del trabajo licenciado bajo una licencia CC Attribution-NonCommercial 4.0 que permite a otros/as compartir el trabajo con el reconocimiento de la autoría y de la publicación inicial en esta revista.