THE EVOLUTIONARY IMPACT OF AN EPEIRIC SEAWAY ON LATE CRETACEOUS AND PALEOCENE PALYNOFLORAS OF SOUTH AMERICA
Resumen
Paleogeographic reconstructions hypothesize that during the Cretaceous, South America was split into northern and southern portions by an epeiric seaway. Although the location, extent, and duration of this ancient seaway is debated, some propose that the resulting separation produced a northern South American biota that more closely resembled other equatorial biotas, distinct from a southern South American biota that more closely resembled other austral biotas. Palynological data from nine South American countries, five equatorial representatives (including the southeastern U.S. and northwestern Africa), and three austral representatives (Antarctica, Australia, and New Zealand) were assembled into a database that includes more than 450 genera from more than 150 localities spanning the Late Cretaceous and Paleocene epochs. Principal components and cluster analyses of the palynological data separate northern South America from southern South America during the Maastrichtian and Paleocene. During these epochs, northern South America clusters with the equatorial representatives; whereas southern South America clusters with austral representatives. These results suggest that biogeographic barriers, such as epeiric seaways, may have played a significant role in the evolution of distinct terrestrial biotas in South America during the Late Cretaceous and Paleocene.

KEY WORDS. South America. Cretaceous. Paleocene. Biogeography. Palynology. Epeiric seaway.
Descargas
Licencia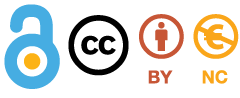 Los/las autores/as conservan los derechos de autor/a y garantizan a la revista el derecho de ser la primera publicación del trabajo licenciado bajo una licencia CC Attribution-NonCommercial 4.0 que permite a otros/as compartir el trabajo con el reconocimiento de la autoría y de la publicación inicial en esta revista.