A HYPOTHETIC SCENARIO FOR THE MIDDLE JURASSIC IN THE SOUTHERN PART OF THE NEUQUÉN BASIN, ARGENTINA
Resumen
A hypothetic scenario for the Middle Jurassic in the southern part of the Neuquén Basin, is proposed on the basis of sedimentary facies and palynological data obtained from the study of eight stratigraphic sections. During the Middle Jurassic in the study area, the Los Molles, Lajas and Challacó Formations of the Cuyo Group constitute an overall prograding system deposited in a distal to shallow marine deltaic environment, with correlative fluvial deposits. The marine environment was characterized on the basis of sedimentary facies and paleomicroplankton contents (30 species). The analysis of the terrestrial palynological assemblages (102 species of sporomorphs) shows that certain plant groups dominated the scenario, in particular the Cheirolepidiaceae, Araucariaceae and Podocarpaceae and to a lesser degree Cyatheaceae, Osmundaceae, Marattiaceae, Dipteridaceae, Lycopodiaceae, Schizaeaceae, Anthocerotaceae, Ricciaceae, Cycadales/Bennettitales, Caytoniaceae and Gnetales. In addition to the conventional approach using percentage values, principal component analysis proves to be an excellent and complementary tool, because reduces the data set into definitive groups of representative taxa. Modern analogues - the Chilean-Argentinean forest and Planalto of southern Brazil- are used to explain the paleoclimatic and paleoenvironmental conditions during the Middle Jurassic. In the Planalto (about 1000 m above sea level) the Araucariaceae and Podocarpaceae grow together, but the latter disappear with an increase of temperature and humidity farther north in Brazil. The influence of acid efusives of the Serra Geral Formation conditioned the low pH of the soils. In the Neuquén Basin, rhyolites of Choiyoi Group (Permo-Triassic) and other acid rocks of the basement (Colohuincul and Huechulafquen formations) could have been the substratum of the ancient Araucariaceae. According to the above assessment, a plateaus scenario, with warm to temperate conditions and variable precipitation rates through the Middle Jurassic, is proposed.

KEY WORDS. Palynology. Sedimentology. Paleoenvironment. Middle Jurassic. Cuyo Group. Neuquén Basin. Argentina.
Descargas
Licencia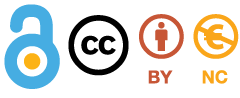 Los/las autores/as conservan los derechos de autor/a y garantizan a la revista el derecho de ser la primera publicación del trabajo licenciado bajo una licencia CC Attribution-NonCommercial 4.0 que permite a otros/as compartir el trabajo con el reconocimiento de la autoría y de la publicación inicial en esta revista.